We can take action in your workshops for a testing : dimensional control, visual control, penetrant testing, magnetic particle testing or ultrasonic testing. You are from a mechanical business, a manufacturing company, a pipefitting business or a sheet metal construction company and you need testing on 100% material or on welds : we can quickly be in your workshop or in yours construction sites.
We can mark your metallic pieces with the electrolytic marking technic. Until 80mm, you can mark your aluminium, carbon steel or stainless steel pieces…
We propose to you quality services in delays at the nearest of your needs and always in the respect of the rules and procedures related to our work. Testings are done on all types of non-porous metals (steel, aluminium, stainless steel, cast iron…).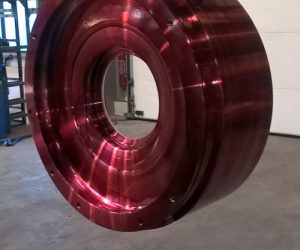 Penetrant testing
This is one of the oldest method in non destructive testing. It is still the most used in industry. It is the part of the surface monitors. This method consists in detecting materials discontinuities on non-dulled surfaces with specific product.
It is possible to carry out this testing during many steps of the building : on the chamfer before welding, between different stages of the welding, after the welding or on all the piece surface in some cases.
Penetrant testing is used on low roughness surfaces and with a simple geometry.
To be noted :  this process needs a step with rinse water. It is important to take account of this, especially for pieces which quickly oxidize.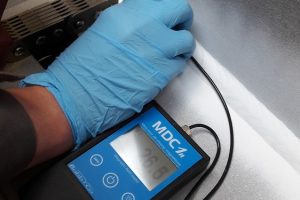 Magnetic particle testing (MT)
This is part of surface monitors, it permits to detect linear defects finer than penetrant testing, but it highlights rarely rounding defects. Finally, this method is more efficient on dulled surfaces.
The only restriction with MT is that the piece must have a sufficient magnetisation. Then, it is better if the surface of the piece to control is not too rough.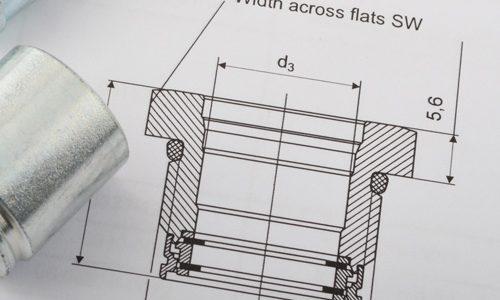 Dimensional control
It consists in verifying every dimensions of a piece to see if these are the ones required by the plan. The monitor will ensure that every part of the plan is respected according to a specific tolerance range.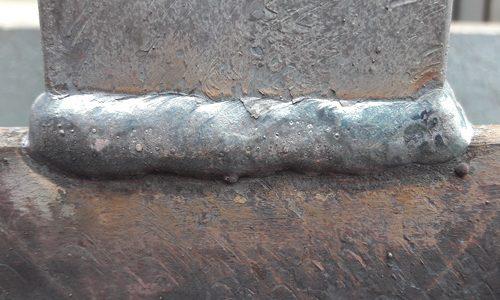 Visual testing
It is a careful visual assessment, it can be direct or non direct (with an endoscope, a video endoscope…). In the case of a welding assessment, the monitor will look at the geometry, the aspect and the homogeneity of the weld.

Commodities and tools
For the penetrant testing and the magnetic particle inspection each commodities are certified PMUC (products and materials used in nuclear power plant).
Each commodity is referenced with a batch number and an expiry date and is related to a declaration of conformity and a technical data sheet.
At the same time, our tools (thermometers, light meters, weld rating and field-strength metres) are calibrated (or verified) to obtain the most reliable results.
In the case where a testing of an intern part non accessible in a direct way is necessary, we use an endoscope.
AF Contrôle has its own procedures validated by Cofrend Level 3 (penetrant testing and magnetic particle testing).
We can take action for other deliveries than electric control :
Peeling testing : nature testing, wire diameter and itinerary.
Junction control : verification of the cable junction in an electrical installation (electric cabinet, electrical box, electric motor, electrical valves, electric pumps…). Many types of testing are done: engine insulation, optimum torque…
CDC/IL : cable way control, size of cable way, control of altimetery,
AF Contrôle has vehicles to drive our testing equipment and take action in your workshop.